Patron
Cardinal Vincent Nichols, Archbishop of Westminster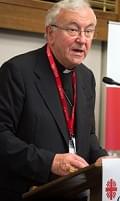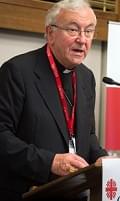 Cardinal Nichols has been Archbishop of Westminster and President of the Catholic Bishops' Conference of England and Wales since 2009.  His Eminence was created a Cardinal by Pope Francis in 2014, and installed in 2015 as first Chancellor of St Mary's University, Twickenham.  As a patron for several Catholic charities including the Cardinal Hume Centre, The Passage, and the national body of Caritas Social Action Network, Cardinal Nichols is devoted to working for those on the margins of society.
Trustees
Rt Rev Terence Drainey – Chair of Trustees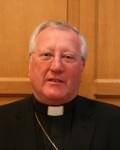 Bishop Drainey was a "fidei donum" priest in the Archdiocese of Kisumu in western Kenya, worked as a Parish Priest in Salford Diocese and served as Spiritual Director at the Royal English College in Spain. Appointed Seventh Bishop of Middlesbrough on 17 November 2007, Bishop Drainey was installed on 25 January 2008.
Sister Lynda Dearlove RSM MBE – Vice-Chair of Trustees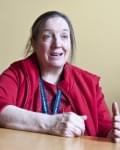 Sr Lynda Dearlove was born in Middlesbrough and studied at St. Mary's FCJ Convent School before reading Microbiology at Kent University, followed by a second degree in Social Policy Administration at Lancaster University. Sr Lynda joined the Institute of Our Lady of Mercy and took her final vows in 1989. She has always been dedicated to serving women involved in street based prostitution and victims of trafficking, and managed the Dellow Day Centre in East London before founding women@thewell in 2006. As well as working as the Director of women@thewell, Sr Lynda is a trustee of the National Alliance of Women's Organisations (NAWO), and through them links on behalf of the women of England with the European Women's Lobby. She is an active member of WNC (Women's National Commission) and has sat on their Violence Against Women Working Group, the International Advisory Group and Olympics Working Group. Sr Lynda was awarded an MBE in the 2011 New Years Honours List, in recognition of over 20 years' work on behalf of vulnerable and disadvantaged women.
Rt Rev John Arnold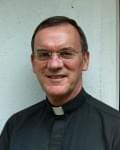 Bishop Arnold was born in Sheffield and studied at Ratcliffe College, Leicestershire, before reading Law at Trinity College, Oxford. He was called to the Bar in 1976, before beginning studies for the priesthood in Rome, initially for the Institute of Charity, and then for the Diocese of Westminster. He completed a doctorate in Canon Law at the Gregorian University. His first appointment was to Westminster Cathedral as Chaplain, then Sub-Administrator, from 1985-1993. He was Parish Priest in Enfield until 2011, when he became Vicar General and Chancellor for the Diocese. He was ordained auxiliary bishop in Westminster in 2006, and appointed Bishop of Salford in September 2014.
Rt Rev Tom Williams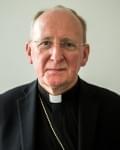 The Right Reverend Tom Williams is an Auxiliary Bishop for the Archdiocese of Liverpool. Born in Liverpool in February 1948, Bishop Williams was ordained to the priesthood in May 1972, and ordained an Auxiliary Bishop for the Archdiocese of Liverpool on 27 May 2003. He is Chair of the Bishops' Conference Healthcare Reference Group and is a member of the Department for Social Justice.
Maria Blazquez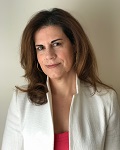 Maria is a financial services lawyer and has held senior roles at Goldman Sachs, Credit Suisse, Barclays and various other major financial institutions. She has experience dealing with illegal immigration while being involved with the Jesuit Refugee Service. During that time she regularly visited detainees in Harmondsworth and Colnbrook centres. Maria is also involved in One of Us, an infancy UK cultural platform think tank to promote the value of human life. Maria is a native Spanish speaker.
Paolo

Camoletto

– Honorary Treasurer
Clare Coffey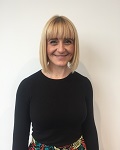 Clare is a director in the London office of the international PR agency, Hill + Knowlton Strategies. She specialises in corporate communications and reputation management, working with some of the world's biggest brands. She started her career in politics in Scotland, Westminster and Brussels. Clare has a history of volunteering, having worked as a residential youth worker in the Archdiocese of Birmingham at Soli House, Stratford-upon-Avon. She currently volunteers weekly at Shelter from the Storm in London, serving homeless guests. She studied politics at Edinburgh University.
Liz Dodds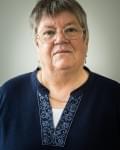 Born and raised in South East London, Liz went to university in Sheffield and has lived in the North ever since. Now retired, she lives in Cumbria. Trained as a social worker, she worked in several agencies, mostly third sector, and lectured at Sheffield Polytechnic, now Sheffield Hallam University. In 1983 she moved to Liverpool to work for the Anglican Diocese, and in 1987 went to work for Catholic Social Services, now known as Nugent. She was on the senior management team with particular responsibility for training. She retired from social work in 1999 and went to work part-time for the Office for National Statistics. She has continued to be involved with Nugent,  latterly as Chair of Trustees. She is a secondary school governor in Cumbria and freelances for BBC Radio Cumbria.
Richard Harries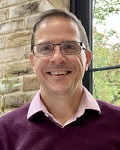 Richard is Associate Director of the Institute for Community Studies. He was previously a senior civil servant and deputy director of the independent think tank Reform. He has extensive experience of research and policymaking in the public sector and third sector and has advised governments in Australia, Japan, Europe, Africa and the Middle East about various aspects of public service reform. He has published on a wide range of topics, including crime and criminal justice, deregulation, fiscal sustainability, philanthropy, social investment and impact evaluation. Richard is a trustee of the Forces in Mind Trust, and sits on the Advisory Councils of Volunteering Matters, the National Council for Voluntary Organisations and Our Common Good. He is also a Senior Associate of the Power to Change Trust and a Visiting Senior Fellow at St Mary's University, Twickenham.
Elizabeth Palmer
Elizabeth is Chief Executive Officer of the St Vincent de Paul Society (England and Wales).
Ben Ryan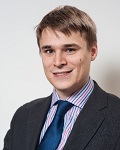 Ben is the Home Affairs Adviser for the Church of England's Mission and Public Affairs Division, where he leads on policy and projects in a range of fields including migration and criminal justice. Previously he was Head of Research at the Christian think tank Theos. He is the author of a number of books and reports on religion and politics, chaplaincy, the Catholic charity sector, mental health and ecumenism.
Nicola Thomas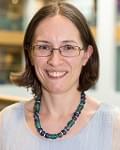 Nicola is currently the Head of Justice, Peace and the Integrity of Creation for the Anglican Diocese of Southwark, working with clergy and parishes on social and environmental justice projects in south London and east Surrey. She was previously a Senior Civil Servant in the Home Office, most recently leading on integration for refugees and safeguarding of vulnerable asylum seekers. She is particularly proud of having led the team which created the Community Sponsorship Scheme for resettled refugees. Nicola has worked in a variety of interesting and challenging roles, including as Private Secretary to two Home Secretaries, and specialises in policy and strategy for operational delivery. In her spare time, she enjoys choral singing, especially in the English Cathedral tradition. She is active in her local Catholic parish.
Carol Hill – Representative of CSAN Directors' Forum (non-voting Board member)
Carol has been the Director of Catholic Care (Diocese of Leeds) since 2012.  She is a chartered accountant, and worked previously in senior positions at Deloitte, Consort Homes and Westward Care.
Staff
Raymond Friel OBE, Chief Executive

Raymond has spent most of his professional life in Catholic secondary education in the state sector, including roles as Headteacher (2002-2016), General Secretary of the Catholic Independent Schools Conference (2016-2018), and CEO of two multi academy trusts, in Plymouth and Westminster Dioceses (2018-2021). He has written a number of books on education and Catholic life, including The Revolution of Tenderness: How to be a Catholic in Today's Church (2016), and At Your Side (2020), a book of original prayers with David Wells (both available from Redemptorist Publications). His latest book, The Formation of the Heart: Being a Socially Engaged Catholic in a post-Covid Society, is due to be published in January 2022. He lives in Somerset with his wife, Janet, who is an artist and maker. They have three sons, some of whom have left home. Raymond was awarded the OBE in the Queen's New Year's Honours 2022, for services to education.
Clive Chapman, Director of Mission
Clive oversees CSAN's public affairs work, in respect of our national agency role on domestic social justice. This includes leading CSAN's own advocacy programme and representing us in national ecumenical, civil society and policy forums. As we establish our Caritas Academy for formation, Clive will play a leading role in its strategy and operation.
Isabella George, Office Manager
Isabella has previously worked as an administrative assistant for Faraday Links and Services, and for the accounts department of Lewisham Borough Council. She holds a degree in Business Management from Greenwich University. Isabella is an active member of her local church community and enjoys spending time with her family and friends.