Phil Kerton of Seeking Sanctuary, the Kent-based charity and member of the Caritas network working with the migrants in Calais and Dunkirk, brings you the latest from Pas-de-Calais.
We have made recent trips to deliver much-needed goods collected by a number of Church Communities. A very generous donation from a church in North London enabled us to distribute €1,000 to Secours Catholique and to the Catholic Worker House which is doing such vital work in protecting vulnerable migrants in Calais.
All the reports what we heard point to the fact that the crisis in Calais has not gone away – it has merely gone underground. Estimates vary but it is thought that between 200 and 800 people have left the CAO centres (where refugees are processed) to which they were transported in various locations across France, and have returned to Calais.
Here, they are eking out a fragile existence in disused warehouses, in fields and ditches and in other spots where they cannot be seen.
Warm clothes been particularly welcome in the recent freezing temperatures, forming part of the aid which is being distributed discreetly from vans by volunteers, often under cover of darkness.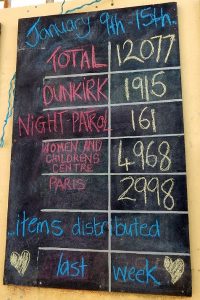 Many unaccompanied minors are also present in Calais, having left the centres to which they were taken in November, often in remote areas of France, and returned to Calais, hoping to join their friends and get to England.
Many of these youngsters have lost hope of being resettled by officials. Consequently they are trying their chances in Calais in dangerous and freezing conditions.
We also hear disturbing reports about the situation in Paris where the number of places in the official shelters is nowhere near enough to match the need and hence many hundreds of migrants are having to brave the cold and freezing conditions on the streets. The warehouses in Calais are delivering much needed supplies to Paris and further afield.
The demand for humanitarian aid is as high as ever – especially for warm clothes, sleeping bags and food.
The views expressed in this blog are not CSAN policy.