Human trafficking and modern slavery
Through the Santa Marta Group, the Catholic Church is working with international law enforcement agencies on how to help victims. Information on the Church's international contribution to address modern slavery and trafficking can be found at Christus Liberat, produced by the Order of Malta.
Understanding and counteracting trafficking in persons – An online training course (in English) for helpers, offered by the College Universitaire Henry Dunant based in Geneva. The course aims to:
Present the work and communicate important material for reflection developed by the Catholic Church for both religious and lay people in relation to trafficking in human beings.
Allow people within religious organisations to be formed by considering the objectives and insights given by the Catholic Church.
Give many people, regardless of their religious origin, the opportunity to have access to this material.
Promote action.
The Clewer Initiative – training and resources for parish-based action, offered by the Church of England.
Spotting signs of trafficking
You may find the following brief guidance helpful for identifying a person who may be a victim of human trafficking. This is not a complete guide or substitute for professional support.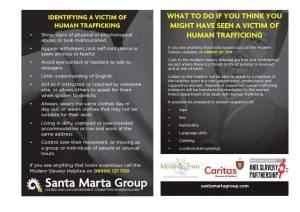 Picture: Sanctuary door knocker, Durham Cathedral